Business & Profession
Business,
Profession
Musings from the Power List: Andrew Samann
Andrew discusses the biggest breakthrough in cannabis science, his predictions for the field, and his advice for anyone following in his footsteps…
| 4 min read | Opinion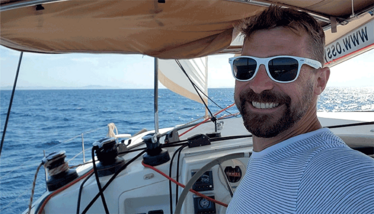 What's been the biggest breakthrough in cannabis science in the last few years – and why?

The biggest breakthrough has been cannabis chemotyping and its relationship to dosing. John Abrams and Jean Talleyrand of the Clinical Endocannabinoid System Consortium (CESC) have made significant strides in breaking down the statistics that relate drug products to a therapeutic response.
What is the single biggest challenge facing cannabis science in 2022 – and beyond?

Funding. Many of cannabis companies are debt financed and, to compound that, there is significantly more cannabis being produced than what is consumed. To put it simply, money is not being spent on research and development. It is very likely that consolidation will happen over the next few years, and only after that will companies apply the science of continuous improvement to their products.
Do you have any strong opinions with which the rest of the field tends to disagree?

I don't think the industry needs to reinvent the wheel with respect to standards. There are likely a dozen different standards organizations all vying for cannabis producers to follow their guidelines. Standards for Good Manufacturing Practices are already used by every developed country in the world, and they are perfectly suitable as they are written for cannabis; plagiarizing what has already been written while adding a few anecdotes about cannabis does not help standardize the industry – it only complicates matters. Standards organizations should stay in their lane by identifying suitable specifications for safety and quality instead of trying to write the "how-to" guidelines that are likely overkill for what a cannabis producer needs to make safe products.
Who have been your heroes/mentors?

I have several heroes and mentors that have inspired my career. First, my PI at the University of Michigan, Jim Simmer, taught me how to question every assumption published in scientific literature; just because something is peer-reviewed does not mean that it's correct. Second, the aforementioned John Abrams of CESC inspired me to follow the data in cannabis chemotypes, and significantly influenced how I apply statistical methods to define cannabis quality. Finally, Susan Audino, Scientific Advisor to AOAC and other impactful organizations, continues to inspire me with her consistent messaging over the years on the first order problems we have in the industry with respect to measurement of cannabis quality and safety; she has significantly influenced how I evaluate testing laboratories and the validity of their data, which we use for contract research projects.
Can you list three up-and-coming researchers who you feel deserve recognition?

There are a few people I've gotten to know in the cannabis industry that are definitely working on the right kinds of projects. One that we all know is Markus Rogen; not only does he have great humor, but he's working on the right kind of problems that bridge product quality and profitability. Yvonne DePorre started at Orion as an Intern after graduating from the University of Michigan, and has continuously applied her knowledge in natural product organic chemistry to improve cannabis product quality. Andi Hilliard also joined Orion as an intern after she graduated from Northern Michigan University's Medicinal Plant Chemistry Program; she has been instrumental at Orion, building statistical models for our contract research projects, while simultaneously developing significant business skills that most scientists shy away from.
If you weren't working in the cannabis industry, what would you be doing?

If I weren't working in the cannabis industry, I would likely be sailing full time, slowly visiting every interesting port around the world.
What advice do you have for those following in your footsteps?

My advice for those following in my footsteps is to take one step at a time. I knew that I wanted to do applied research in cannabis from the time I got out of the Marines in 2006. It was a time when I couldn't be open about my intentions, and I had to moonlight in the industry while going to school, working as an academic researcher, and as a pharmaceutical GMP QC Chemist. It was frustrating and tore me apart because I felt like I wasn't doing what I was meant to do. It turned out that I absolutely needed the experience at the most basic levels to thoroughly understand the philosophy of science, the scientific method, and performing applied research. All good things take time, so make sure you find the right mentors along the way, tell them your long term intentions, master the skills you need until you're ready to take the next step.
Receive content, products, events as well as relevant industry updates from The Cannabis Scientist and its sponsors.