Business & Profession
Profession
Remembering the Father of Cannabinoid Research
Raphael Mechoulam – a true giant in cannabis research – will always be remembered for his monumental contributions to cannabis science and his commitment to promoting scientific curiosity
| News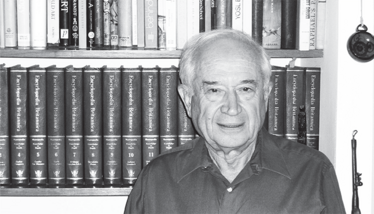 As some of you may know already, Raphael Mechoulam – also known as "the father of cannabinoid research" – passed away a few weeks ago, on Thursday, March 9th, 2023. So I would like to take a moment to remember him and his monumental contributions to cannabis science – including his groundbreaking discovery of the first endocannabinoids, which contributed to our knowledge of the endocannabinoid system (ECS) as we know it today, and his isolation of plant-derived THC and CBD for the first time.

When we interviewed Mechoulam for a Sitting Down With in 2018, he cited three major career highlights: "The identification of THC in the 1960s, the identification of the endogenous cannabinoids in the 1990s, and our work now on the third phase of cannabinoid research – endogenous anandamide-like compounds of importance in numerous areas. There is so much more to study in cannabinoids, which keeps me motivated. It's what any scientist likes to do – tackle a research project of some importance and ultimately find out it has been worthwhile." He also discussed how he got into cannabis research, the significance of his work, and things he might have done differently.

Through interviews with our contributors, his name has appeared many times on The Cannabis Scientist – often being cited as an inspiration, a pioneer, and a researcher ahead of his time. When he was nominated for our Power List in 2020, he described his most important contribution as the discovery of the endogenous cannabinoids, anandamide and 2-AG. He also was dubbed "a continued inspiration to the many researchers who follow in his footsteps."

He was described very similarly in his obituary: "Beyond his scientific achievements, Raphi was known for his commitment to promoting scientific curiosity and discovery, and for his generosity in mentoring and supporting other researchers in the field. His work inspired, and continues to inspire, a generation of successful cannabinoid researchers. As such, he will be not only remembered for his specific contributions to cannabis and cannabinoid research, but also for his far-reaching impact on the scientific community and more broadly our global society."

What a wonderful way to be remembered.
Receive content, products, events as well as relevant industry updates from The Cannabis Scientist and its sponsors.