Research & Development
Medical research,
Pain,
Pharmaceutical,
Legislation & policy
Opioids and the Cannabis Question
Could cannabis use reduce opioid-related deaths? Two recent studies reach different conclusions.
Jessica Allerton | | Discussion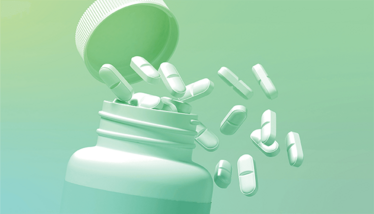 Drug overdose is now the leading cause of accidental death in the US and Canada, with opioid use being a major contributor to the problem (1). Could cannabis use effectively manage opioid cravings and chronic pain and help combat this crisis?
A team of researchers from California and Canada investigated the association between cannabis use and opioid craving, and found that opioid use was reduced when individuals were also taking cannabis (2).

In the study, 205 people who use opioids (PWUO) in Vancouver, Canada, completed a cross-sectional questionnaire. Following multivariable analysis, cannabis use was significantly associated with self-reported reductions in opioid use. With regard to cravings, cannabis use was only associated with reductions in opioid use among people living with moderate to severe pain, and only among females. Overall, 57.6 percent of participants reported using cannabis to manage their opioid cravings.

"Increasing the accessibility of cannabis products for therapeutic use may be a useful supplementary strategy to mitigate exposure to unregulated opioids and associated harm during the ongoing drug toxicity crisis," wrote the authors (1).

However, another recent study found no correlation between medical cannabis legalization and opioid prescriptions (3).

Researchers from Weill Cornell Medicine and the Johns Hopkins Bloomberg School of Public Health, USA, collected data from 583,820 adults with non-cancerous chronic pain between 2010 and 2022 in 12 states that implemented medical cannabis laws and 17 comparison states. In the first three years after implementing medical cannabis laws, the changes in medical practices were small – ranging from a decrease to a slight increase in patients receiving opioid prescriptions, non-opioid pain medication prescriptions, and chronic pain procedures. From these findings, the researchers concluded that there were no important effects of medical cannabis laws for PWUO with chronic non-cancerous pain.

"This study did not identify important effects of medical cannabis laws on receipt of opioid or nonopioid pain treatment among patients with chronic noncancer pain," concluded the authors (3).

So, the relationship between cannabis use, legislation, and the opioid crisis remains complicated – and the research continues.
Receive content, products, events as well as relevant industry updates from The Cannabis Scientist and its sponsors.
B Fischer, Science Direct (2023). DOI: 10.1016/j.lana.2023.100437. H
Reddon et al., Science Direct (2023). DOI: 10.1016/j.drugpo.2023.104113.
EE McGinty, ACP (2023). DOI: 10.7326/M23-0053.