Business & Profession
Legislation & policy,
Profession
Musings from the Power List 2022: Christopher Hudalla
Chris discusses the biggest challenge facing the field, his opinion on synthetic cannabis, and a serendipitous moment in his career…
Margot Lespade | | 3 min read | Interview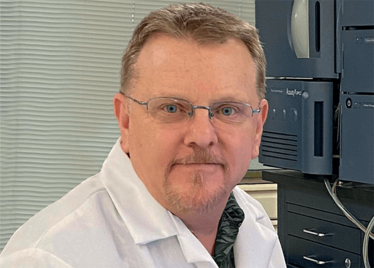 What is the single biggest challenge facing cannabis science in 2022 – and beyond?

Cannabis science, whether for provision of analytical data to support production or for applied research and development, continues to be hampered by State and Federal prohibitions, as well as inconsistent regulatory requirements. Regulations that vary from state to state, and from country to country, make it challenging to engage in collaborative research and to produce consistent products across multiple geographies for consumer use. In the analytical testing arena, Federal prohibition makes it challenging to run proficiency testing (PT) programs, which would permit laboratories to be evaluated on competency with appropriate sample matrices that more closely match the day-to-day testing of samples. This imbalance in regulatory requirements across the globe hinders the cannabis industry from developing into a healthy, stable, legitimate industry.
Do you have any strong opinions with which the rest of the field tends to disagree?

I continue to be disappointed and dismayed by the lack of concern for the distribution of contaminated synthetic cannabis derivatives into the consumer market. After testing thousands of products based on synthetic isomerization processes, 100 percent of the samples we have tested have contained significant amounts of residual synthetic reagents and/or synthetic byproducts, most of which do not exist in nature and, as such, have no demonstrated safety profile. Most analytical laboratories that are providing testing for these products are ignoring the presence of these unknown compounds and do not report their presence on the resulting Certificates of Analysis (CoAs). Collaborative work has been performed to demonstrate that these contaminants can be removed in the process, but few producers, if any, are willing to take the extra time and effort to produce clean, contaminant free products. Instead, these contaminated products continue to be distributed without oversight, putting consumer's health and safety at risk for potential short- and long-term health concerns – all for the sake of maximizing profits. I cannot imagine another legitimate industry that would be permitted to operate with such irresponsibility.
What was the most serendipitous moment in your career?

After over 25 years of analytical R&D experience in academic and industrial environments, I chose to leave my job to enter the cannabis industry and start ProVerde Laboratories. I did so with the full belief that I would be leaving behind my scientific credibility, that I would be ridiculed by my peers for entering a heavily stigmatized industry, and that my opportunities for collaborative research would be limited. Much to my surprise, I experienced exactly the opposite. Because of the historical legal status of cannabis, scientific research into the cultivation, extraction and processing, and physiological benefits of cannabis has been limited. Upon entering the cannabis industry, I realized that there were almost unlimited opportunities for research, and numerous partners for collaborative projects. As the popularity of cannabis grew, so did the hunger for knowledge, opening multiple doors for presenting our research to global audiences of curious scientists. In many ways, what I once feared would be the death of my scientific career, became instead the birth.
Receive content, products, events as well as relevant industry updates from The Cannabis Scientist and its sponsors.