Business & Profession
Business,
Education,
Legislation & policy,
Profession
Musings from the Power List: Alberto Galán Ávila
Here, Alberto discusses the biggest challenge facing cannabis science, his predictions for the field, and his advice for anyone following in his footsteps…
Margot Lespade | | 2 min read | Interview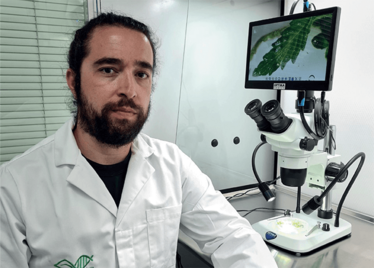 What is the single biggest challenge facing cannabis science in 2022 – and beyond?

In my opinion, especially when cannabis cultivation is being implemented on a global scale, cannabis science must take the lead within this newly-emerged industry and ensure it is built in a sustainable way, paying special attention to reducing our carbon footprint. Undoubtedly, building a new industry under these terms will be one of the biggest challenges faced not only by cannabis science, but also by the whole industry.

Environmentally-friendly strategies will be vital to the development of this industry, whose foundations are currently only beginning to be erected. In this context, biotechnology must play a key role, offering a wide range of applications for the cannabis industry that can help to solve some of the barriers that currently stand in the way.
Do you have any predictions for the field over the next few years?

Legalization is inevitably bringing an increase in cannabis cultivation and research and, with this, new challenges are emerging. In the coming years, I believe fields such as biotechnology and omics will play a key role in cannabis genetic improvement. These disciplines will help mitigate the research deficit that decades of prohibition have promoted in cannabis breeding in comparison with other crops. In fact, it is already happening. Nowadays, different challenges such as absence of uniformity in the varieties, resistance to different plant pathogens, or targeted modulation of the cannabinoid pathway, are being tackled through these approaches.

Whichever way you look at it, the more you understand these kinds of technologies, the more you realize that they can perfectly complement traditional techniques – and, ultimately, help boost cannabis breeding.
What advice do you have for those following in your footsteps?

First of all, if you want to dedicate your entire life to working with cannabis, you need patience! This work is not as easy as it could be if you worked with another species, as the bureaucracy involved in obtaining and maintaining cultivation authorizations can be exasperating at times.

Aside from this, it's crucial you maintain a desire to learn. Because of this, you need to not only be constantly working hard, but also studying, as cannabis science is advancing by leaps and bounds and new discoveries are continuously emerging. If you manage to gather all these ingredients, you will have a good recipe for success!
Receive content, products, events as well as relevant industry updates from The Cannabis Scientist and its sponsors.