Business & Profession
Profession
Musings from the Power List: Alisia Ratliff
Some of our 2022 Power List finalists share their insights on the cannabis science field. Here, Alisia discusses the biggest breakthrough in cannabis science in the last few years, her predictions for the field, and her personal mission for the next 10 years…
Lauren Robertson | | 7 min read | Interview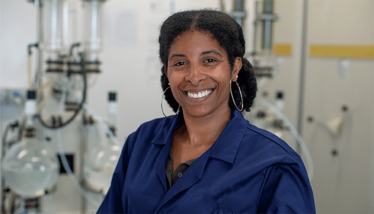 What has been the biggest breakthrough in cannabis science in the last few years?

The biggest breakthroughs have been the evolution of extraction technology and the automation of cultivation. The traditional solvent extraction methods that have long led the industry are now being challenged by greener methods that produce higher-quality extracts with little or no residual solvent. The automation of the technology also offers more reproducible batches, which is hard to achieve for botanicals affected by the many variables in the cultivation process.
What is the single biggest challenge facing cannabis science in 2022 – and beyond?

One of the biggest challenges we face is pseudoscience and false product claims. We are seeing producers of what we call "snake oil" entering the markets as legitimate brands. Testing labs have done blind analyses on products, exposing the lack of (or incorrectly measured) cannabinoid content in these products. Marketing agendas are now eclipsing actual scientific evidence of newly isolated cannabinoid products. The rush to be first to market with a new product and capital appetite needs to come second to sound research and development activity.
Do you have any predictions for the field's next few years?

Over the next few years, I believe we will see the niche product market become more and more commoditized. We will see some form of federal legalization in the US, similar to steps taken by Canada. The UK is slow to open the doors to domestic production, but will start to gain momentum with political pushes. Europe will continue to grow each market and increase THC limits as more data become available – like we saw with the increase from the European Industrial Hemp Association. We will also see antiquated drug laws revised for cannabis possession, cultivation, and use across the world, and decriminalization in most countries. We will also see retribution given to those affected by the war on drugs through record expungement, business mentorship, and equitable licensing to capitalize on the market.
Do you have any strong opinions with which the rest of the field disagrees?

One of my strong opinions is that social equity programs are not serving the purpose for which they were intended. Though the inclusion of such programs is a step toward a totally inclusive market, we are not seeing the support needed from investment, mentorship, and regulation for those licensees to truly succeed.
I also believe that diversity and inclusion has become a trendy topic to discuss on conference panels around the world; however, from the inside looking out, it's still a very one-sided view sitting in the boardrooms of large cannabis companies. We need more women and people of color in executive roles, sitting on boards of companies, and investing in the industry. This will bring a truly diverse outcome to the phrase "giving back to the community." It has to start somewhere – why not from the top down?
Can you name any up-and-coming researchers you feel deserve recognition?

Jamila La Malfa-Donaldson is an amazing human being currently finalizing her doctorate studies at Aberystwyth University in the UK. Her PhD is focused on developing testing, cultivation, and processing methods of industrial hemp for therapeutic compounds such as CBD. She also won this year's Aberystwyth University InvEnterPrize student business ideas competition. She pitched and received funding for her food and cosmetics brand, PROHEMPOTIC, which will offer a range of products derived from organic hemp with added plant-based ingredients, aimed at supporting health and wellbeing.
Heather Grab, a senior lecturer at Cornell University, is a powerhouse of a woman as well! She is a fantastic teacher working with plant breeders, pathologists, and biochemists – and she leads professionals, regulatory officials, and industry partners to a better understanding of hemp as a crop for profit. She earned her PhD in entomology at Cornell working on sustainable farming practices that promote services provided by beneficial insects, including integrated pest management, wildflower plantings, and crop diversification. Her ongoing research is in collaboration with other researchers at Cornell, Virginia Tech, and the USDA.
If you weren't working in the cannabis industry, what would you be doing?

I would most likely be working as a cosmetic chemist, quality analyst, or project manager; that's what was available to chemistry professionals in Jacksonville, Florida. Before joining the cannabis industry, I was intrigued by global problems such as toxic chemical replacement in products, non-alcoholic beverage production, and alternative herbal medicines. I had dreams of traveling the world and working on cool projects that support underserved communities – building water treatment plants or evaluating ways to bring down pollution. I also enjoy working for myself and running a business, so I think I would try to couple that with one of these passions. Currently, outside the cannabis space, I am the contract CEO of an emerging biotechnology company, BioTech1, that encompasses everything I mentioned.
Who have been your heroes or mentors?

I am blessed with an amazing life coach, in-house counselor, and supportive mentor who is also my hero. Christopher Ratliff has guided me to heights in my career that I never dreamed of reaching, encouraged me through mental roadblocks, and strengthened my confidence to move on from a toxic environment when things seemed to be awry. I have been inspired by various people within the industry who are scientific thought leaders (John MacKay), powerful speakers (Rachel Knox), and strong government leaders (Phil Scott). Collectively, these inspiring people have shaped who I am in this industry as a scientist, business executive, and cannabinoid science SME.
What advice do you have for those following in your footsteps?

My advice to anyone willing to jump into the cannabis industry as a scientist is to evaluate your risk appetite. Think to yourself, "Do I enjoy roller coaster rides?" The industry is filled with non-scientists looking to steal intellectual property, stifle career growth, and push you out of the company because "they can do it without you." Know your worth when negotiating your compensation package, stay abreast of new technology and methodology in cannabis science, and never be afraid to leave a toxic situation, because your skills can always be appreciated somewhere else. Mental health leads to success in any aspect of your life, so choose it over anything else in your career.
What was the most serendipitous moment in your career?

The most serendipitous moment in my career is the story of how I got into the cannabis industry. I was looking for the next step in my laboratory career – a position that would challenge me, offer new experiences, and give me the opportunity to do meaningful work and effect positive change. I received a random email from an esteemed professor at my alma mater asking if I was looking for a new position. When I said yes, I had no idea she would refer me to interview for one of the first MMTC licensees in Florida. Stepping into that role changed not only my career, but my entire life and its trajectory.
An equally serendipitous moment was when I found myself looking for not just a new opportunity, but one that didn't involve liars, misrepresented roles, or money launderers. I interviewed for a COO position to head up operations for a large firm in Eastern Europe. Instead, based upon my experience and scientific background, I was offered the opportunity to head up a biotechnology company as CEO! It has been an exciting new adventure that will support the cannabis industry in many ways.
What is your personal mission for the next 10 years?

My mission in the next decade is to continue helping others maximize their success, whether that's through education for the next generation of cannabis scientists, consulting for clients in new and mature markets, or collaboration with government bodies to shape the regulatory framework for cannabis producers.
Receive content, products, events as well as relevant industry updates from The Cannabis Scientist and its sponsors.