Business & Profession
Profession,
Omics,
Cannabinoid analysis
Turning Over a New Leaf
Sitting Down With... Jessica Kristof, Vice President of Research and Development, Phylos Bioscience, Portland, Oregon, USA.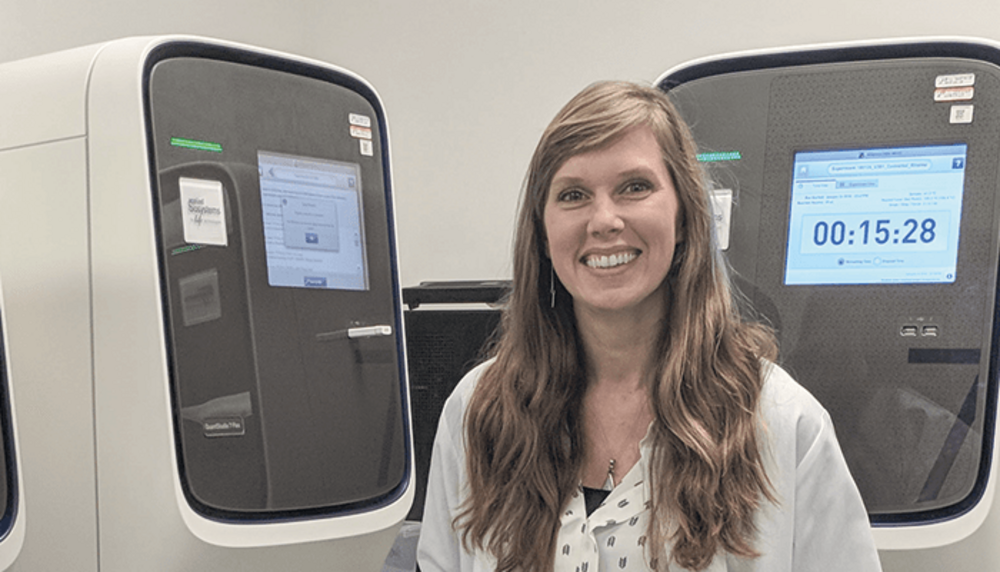 What was your path into cannabis science?
My expertise is in genetics, which has allowed me to work in a number of different areas; no matter what organism you're looking at, the nature of the genetic code doesn't change. After degrees in biochemistry and plant biotechnology at Oregon State University, I initially worked for a biofuels company exploring the potential of algae as a fuel. I then moved to a clinical cancer diagnostics company, analyzing mutations in cancer cells, which was very rewarding work. However, horticulture is my passion – I missed working with plants. When the position at Phylos Bioscience came up, it was a perfect fit. I became the company's first employee.
Why cannabis?
Cannabis is a plant scientist's dream, because there is so much about its genetics and chemistry that is unknown. Of course, pioneering researchers have done some incredible work – but there's so much uncharted territory that I can't wait to explore.
Is there still stigma attached to cannabis science?
When we started the company in 2014, there was some stigma. But the scientists who went before us certainly had a harder time. In 2018, things are very different. When I tell people I work with cannabis, they are excited. It's been great to see public opinion change and acceptance blossom.
What is the goal of the company?
We all wanted to apply what we've learned in many combined years of science to solve problems that we saw in the emerging cannabis industry. We firmly believe that science is the cornerstone that will allow the industry to become a viable, growing market. The two tests we offer – sexing and strain identification – tackle two major issues that have been frustrating cannabis growers for decades. But it doesn't end with selling tests for us – we want to share our knowledge as much as we can.
What has been the response from growers and breeders?
It's been great! The sex test is pretty much a no brainer for growers – especially when they calculate what they are spending on raising unwanted male plants. Genotyping has been a big help for medical applications. Often, specific strains are recommended for different conditions and if strains are being (purposely or accidentally) mislabeled, it can cause a real problem. For breeders, genotyping lets them understand their plants, better select plants for crosses, and stabilize their lines. It's been amazing to meet with different sectors of the cannabis market and see how they use the tests. We have an open door policy – just give us a call and you can make an appointment to tour the labs. We enjoy our work, and we want to show it off!
Cannabis is a plant scientist's dream, because there is so much about its genetics and chemistry that is unknown.
Does the genotype of the plant guarantee the chemical profile?
The genetics can tell you what the capacity of the plant is, but can't tell you what it will achieve – the phenotype. Growers are often disappointed to find that what they thought was a unique strain is actually a clone. But a lot of the characteristics of the individual plant are down to the skill of the grower – just as you could give three winemakers the same vine plant, and each would produce a unique wine.
What's your biggest project at the moment?
I'm very excited about Phylos Certified. When we first released our genotyping test, we sold it simply as a way to confirm what strains growers have. With Phylos Certified, we're going a step further and allowing growers to publicly verify the genetic ID of their strain. They can pass on their certification to the distributor, who can give it to the dispensary – and a customer can look it up in the Phylos Galaxy. Along with a public ID, some of my colleagues have designed a new seal that will act as a unique fingerprint for each strain – a graphic representation of its unique genetic makeup. It's a simple image, but to me it's very exciting because it represents so much time, talent, art and science.
What are your plans for the next few years?
Right now, we're concentrating on our existing sex and genotyping products to ensure that they are stable and can grow with existing and emerging markets. We are also partnering with the Open Cannabis Project (OCP); with customers' consent, we will release data from genotyping tests into the world. We hope people can use that information to come up with new and exciting ideas.
What are your hopes for the future of the industry?
We're on a fantastic track – the public are more and more accepting of cannabis, and growers and breeders are very open to using science to better their companies. It's blossoming into a creative, independent industry that is generating a lot of revenue for economies across the US and internationally.
Subscribe to The Cannabis Scientist Newsletters