Joshua Crossney
The Power List 2021 – Inspirational Mentors
---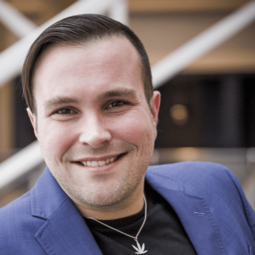 President and Founder, jCanna and Cannabis Science Conference, USA
Motivation: In 2012, I was shocked to learn that there were more testing standards for wastewater than there were for cannabis. Medical practitioners were not being trained on the endocannabinoid system and were disconnected from the cannabis industry and the rapidly emerging field of cannabis analytical science. My goal was to bring together many diverse, unconnected groups to share information and advance cannabis science.
Proudest career moment: When we hosted our very first Cannabis Science Conference in Portland, Oregon in October 2016. Leading up to that first show, we outgrew our event space two times and had to find larger venues. From the moment we kicked off our first session, I knew that we had created something special. There was an air of excitement and energy that is difficult to describe. We were coming together and sharing information to overturn decades of cannabis stigma.
Another extremely proud moment for me was when we launched the Cannabis Science Conference East in my hometown of Baltimore, Maryland in April 2019. It was such a full-circle moment for me to be able to bring our growing platform to the East coast, and more specifically to my state. Both the East and West Cannabis Science Conferences brought many diverse groups of people together for information sharing, networking and friendship and I am so proud of helping to make these connections and bridge the gaps between analytical science, medicine and the cannabis industry. We missed seeing everyone in 2020 but are excited to meet again very soon.
Advice to my younger self: Be patient. Many people think the cannabis industry streets are paved with gold. It takes time to build something new and overnight success is rare. But if you stick to your passions and always remember your goals, you will positively impact a lot of lives. You may face great challenges and defeats, but with patience, humility and respect you can learn from your mistakes and grow.
Nominator comment: "Spearheaded one of the largest cannabis science expos, which pulls in instrument manufacturing experts, testing labs, research scientists, and medical professionals. His passion for medical cannabis research and development is infectious."
---