Alberto Galán Ávila
---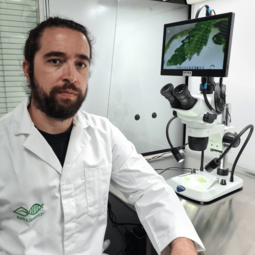 CEO, Ploidy and Genomics S.L., Valencia, Spain
Biggest challenge facing cannabis science?
Cannabis science absolutely needs to be built up in a sustainable way, paying special attention to the reduction of its carbon footprint. We must implement environmentally-friendly strategies in this rapidly-evolving industry whose foundations are currently beginning to be erected. Biotechnology must play a key role, offering a wide range of applications for the cannabis industry to solve some of the barriers that stand in its way.
Advice?
In my opinion, anybody wanting to dedicate an entire life of work to cannabis needs a strong dose of patience because the bureaucracy involved in obtaining and maintaining cultivation authorizations can be exasperating at times.
But working in the field of cannabis research can also be very rewarding – especially when you are the first to discover something new. I think this is a powerful incentive for anyone who decides to dedicate themselves to cannabis science. It is very gratifying to help build this industry in a key time in cannabis science history – just when the veil of prohibition is disappearing after so long.
---