Research & Development
Adverse effects,
Medical research
Achy, Bake-y Heart
Is cannabis use increasing the number of atrial fibrillation cases?
Margot Lespade | | News
Atrial fibrillation – the most common cardiac arrhythmia, affecting an estimated ~60 million people worldwide (1) – is now considered a preventable condition. But how is it triggered – and how can it be prevented? Recently, scientists from the University of California, San Francisco conducted a longitudinal study to investigate the potential effects of cannabis, methamphetamine, cocaine, and opiate exposure on atrial fibrillation (2).

The researchers collected and analyzed data from diagnostic codes from hospital admissions and did not rely on self-reported use, which often results in inaccurate data. The results? Cannabis users had a 35 percent greater chance of developing atrial fibrillation later in life. To gain more perspective, we spoke to Gregory Marcus, UCSF professor of Medicine in the Division of Cardiology and one of the authors of the paper.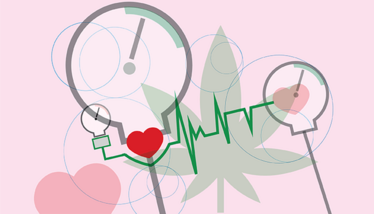 What inspired this study?

The inspiration for this study was a convergence of two considerations. First, atrial fibrillation is the most common heart rhythm disorder in the world – it's a leading cause of strokes and substantially reduces one's quality of life. We still do not completely understand why some people get it and others don't. There is growing evidence that lifestyle factors – such as alcohol and tobacco exposure – might increase risk.

Simultaneously, recreational drugs are becoming more accessible because of cannabis legalization and general leniency, and we know that the use of substances such as opioids is increasing. Considering that these drugs have been illicit, rigorous longitudinal studies have traditionally been difficult, if not impossible, to conduct. We wanted to evaluate whether the use of methamphetamines, cocaine, opioids, or cannabis increases the risk of atrial fibrillation in the hope of providing a prevention target for our atrial fibrillation patients and educating the demographic using these drugs.
What are the implications of your results?

We found that all four substances are associated with an increased risk of atrial fibrillation. Our data demonstrate the long-term consequences of these substances in the development of a chronic disease that can adversely affect the rest of a person's life. The findings may also point to a novel target to help prevent atrial fibrillation.
Did you encounter any obstacles in your work?

The study was observational and not a randomized trial, so there could have been confounding factors that our multivariable, statistical adjustment did not address. Although the positive associations we observed were clinically relevant in magnitude, statistically significant, and bolstered with negative control analyses that failed to reveal similar relationships, we cannot confidently infer causal relationships. We also did not measure precise methods of use or the exact amounts of substances used.
Will we see further incidences of atrial fibrillation as cannabis becomes increasingly legalized?

This is one of my concerns – that cannabis use may increase the number of atrial fibrillation cases and lead to more strokes and other adverse events. Considering that these effects could be chronic – potentially over several years – it may not always be obvious whether or not cannabis was the culprit.
Do you have a call to action as a result of these findings?

Anybody currently using these drugs should be aware of the clear and consistently heightened risk of atrial fibrillation. Although various treatments for atrial fibrillation exist, all of the patients I see suffering with the disease would, of course, prefer never to have experienced it. For those who have been diagnosed with atrial fibrillation, these findings may point to lifestyle targets that could reduce the risk of recurrence or progression of the disease.
Any plans for future research?

We hope to perform more experiments that truly evaluate the causal relationship between these substances and atrial fibrillation. We would also like to determine whether the mode of consumption – such as smoking – could be relevant.
Receive content, products, events as well as relevant industry updates from The Cannabis Scientist and its sponsors.
J Kornej et al., Heart, 107, 516 (2021). DOI: 10.1136/heartjnl-2020-318480.
AL Lin et al., Eur Heart J, [Online ahead of print] (2022). DOI: 10.1093/eurheartj/ehac558.