Research & Development
Neurology & psychology
Balancing Act
Does CBD really counteract the neuropsychiatric risks of THC?
Matthew Hallam | | Quick Read
Exposure to high doses of cannabis has been associated with neuropsychiatric symptoms such as paranoia, anxiety and even psychosis – and the use of high THC:low CBD strains appears to be a particular risk factor (1). Studies have shown that CBD may reduce the subjective "high" of THC in human subjects (2), and it's thought that it could also reduce the negative effects of THC. But the mechanisms behind CBD's protective effect have remained a mystery.
As is often the case with biological phenomena, researchers are looking to rodents for answers. Specifically, the hippocampus of THC-exposed rats represents a fruitful target, and one that Steve Laviolette and colleagues were determined to probe.
"We used a variety of preclinical models of THC-related side effects to measure reward sensitivity and anxiety, alongside detailed molecular analyses and measurements of neuronal activity in the dopamine system," says Laviolette. The results revealed a putative molecular mechanism behind the ability of CBD to reduce or block many of the psychotropic side effects of THC, including emotional dysregulation, vulnerability to addiction, processing problems and dopamine system disruption (3).
The team attributed these effects to CBD blocking THC-mediated hyperstimulation of the ERK 1-2 pathway in cells of the hippocampus; this pathway plays an important role in cell cycle control and cellular division, and has previously been implicated in rodent models of anxiety and depression.
The study adds to existing data showing opposing effects of THC and CBD; for example, THC dysregulates subcortical dopamine transmission, while CBD can normalize aberrant dopamine signaling (4). The researchers intend to further refine their methods, in the hope of gaining a more complete picture of how the two cannabinoids interact.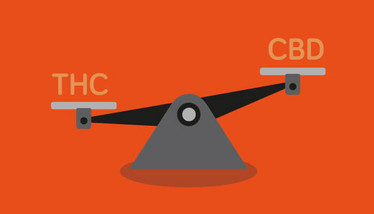 Receive content, products, events as well as relevant industry updates from The Cannabis Scientist and its sponsors.
M Hallam, "Cannabis on the Brain", The Cannabis Scientist (2019). Available at: tcs.txp. to/psychosis
MB Wall et al, "Dissociable effects of cannabis with and without cannabidiol on the human brain's resting-state functional connectivity", J Psychopharmacol, 33, 822 (2019). DOI: 10.1177/0269881119841568
R Hudson et al., "Cannabidiol counteracts the psychotropic side-effects of Δ-9-tetrahydrocannabinol in the ventral hippocampus through bi-directional control of ERK1-2 phosphorylation", J Neurosci [Epub ahead of print] (2019). DOI: 10.1523/JNEUROSCI.0708 19.2019
J Renard et al., "Cannabidiol counteracts amphetamine-induced neuronal and behavioral sensitization of the mesolimbic dopamine pathway through a novel mTOR/p70S6 kinase signaling pathway", J Neurosci, 36, 5160 (2016). DOI: 10.1523/JNEUROSCI.3387-15.2016