Research & Development
Adverse effects,
Medical research,
Neurology & psychology
CBD: the THC "Buffer"
How THC's disruptive effects on the brain's striato-cortical networks can be countered
Margot Lespade | | 3 min read | Interview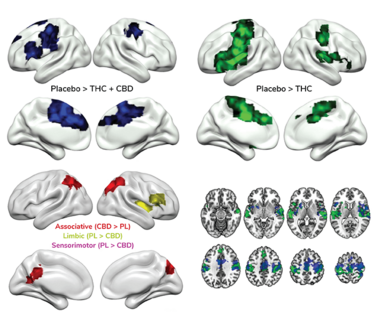 Using functional magnetic resonance imaging (fMRI), scientists from University College London, UK, have been investigating the effects of cannabinoids on certain areas of the brain – particularly areas involved in addiction and psychosis (1). They discovered that THC disrupts striato-cortical networks in the human brain, particularly affecting the insula. However, their results also revealed that CBD may mitigate these effects to some degree.

The authors highlighted that future research must delve into how these acute effects translate into longer term effects in chronic users – and what role these striato-cortical connections may have in the pathophysiology of cannabis use disorder and cannabis-related psychosis.

First author Matt Wall, Senior Imaging Scientist at Invicro, London, and Honorary Senior Lecturer at University College London, answers our questions on the subject.
What were you hoping to find?

The purpose of this study was to examine the effect of THC on brain function alone and in combination with CBD. There is concern that modern strains of cannabis – which are often high in THC content and low in CBD – are more likely to cause negative side-effects in users. We decided to investigate the different effects of THC and CBD on particular brain areas which are known to be involved in addiction and psychosis. We also included some data from subjects who were given pure CBD as an additional comparison.
How were the effects of THC and CBD on striato-cortical connectivity measured?

Effects were measured using resting-state fMRI – a technique that measures brain blood flow while subjects are resting quietly in the MRI scanner; it can be used to infer connectivity between brain regions by looking at the correlated patterns of activity between them.
What are the key takeaways from your study?

THC by itself affects the connectivity of a key region of the brain known to be involved in addiction: the limbic striatum. However, the THC+CBD treatment had no measurable effect on this region. This suggests that CBD helps to insulate or "buffer" the user against the potentially harmful effects of THC on this key brain region. CBD by itself had relatively little effect on the brain, but this was expected as CBD is not generally thought of as being a psychoactive compound.
Any limitations?

One key limitation of this paper is that it uses data from two different cohorts of subjects – some received the THC and THC+CBD treatments, and a separate set of subjects were given oral doses of pure CBD. This means that we can't directly compare the results across these two sets of people.
What effect did CBD and THC have on the insula specifically?

Both THC and THC+CBD treatments had a strong effect on connectivity between the striatum and the insula. The insula is a functionally complex region that has been implicated in a wide variety of brain functions, such as salience processing, pain, emotion, and decision-making. Links between the striatum and the salience-processing brain network are an important part of modern theories of psychosis, so this may be important in understanding how THC can sometimes produce psychotic-like effects in some individuals.
What are the implications of these findings?

I'd say we've provided more evidence of the potential dangers of modern strains of cannabis that contain high concentrations of THC, with relatively little CBD content. Ideally, consumers should be able to make an informed choice about the kinds of cannabis they use, and should be able to pick a strain with a more balanced THC/CBD ratio. However, this can really only happen within a legalized market, where the correct information about various strains can be presented to consumers.
Receive content, products, events as well as relevant industry updates from The Cannabis Scientist and its sponsors.
MB Wall et al., Journal of Psychopharmacology, 36, 732 (2022). DOI: 10.1177/02698811221092506