Research & Development
Medical research,
Cannabinoid analysis,
Legislation & policy,
Formulation,
Profession
Is Your Elephant Depressed? (And Other Surprising Stories)
Here at The Cannabis Scientist, we take science seriously. But every so often a news item crosses our desks that is a little more… unusual. Here are 10 stories that raised our spirits (and sometimes our eyebrows) in 2020.
Charlotte Barker |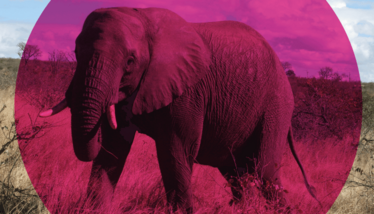 1. Prehistoric pot
Researchers made a fascinating historical discovery this year, when chemical analysis revealed that cannabis was burned alongside frankincense at an Iron Age shrine in Israel; specifically, residues of THC, CBD, cannabinol (CBN), and terpenes were all detected on an altar at the Judahite Shrine of Arad.
2. Ahead of his time
Historian Laura Dierksmeier published an entertaining paper on 18th-century Mexican scientist-priest (and cannabis advocate) José Antonio Alzate y Ramírez. Based on the medicinal properties of the plant – which he knew by the (tongue-twisting) name Pipiltzintzintlis – Alzate argued against the cannabis prohibition imposed by the government of the day. He wrote, "I think I have demonstrated the benefits of using Pipilzitzintlis and, in the words of the theologians, it is bad because it is forbidden, not forbidden because it is bad."
3. Big heart
As animal lovers, we were touched by the story of Fredzia the elephant. A resident of Warsaw Zoo, she became stressed after the death of herd matriarch Erna. In a bid to soothe the young African elephant, veterinarian Agnieszka Czujkowska made Fredzia the first patient in a study to assess whether CBD oil can help reduce anxiety and stress in zoo animals. The zoo has yet to report on the success of the experiment, but we wish the poorly pachyderm a happier 2021.
4. Wild West
A less exotic animal, the humble cow, is the subject of a study at Kansas State University. The researchers recently picked up a $200,000 grant from the US Department of Agriculture to establish concentrations of cannabinoids in cattle fed on industrial hemp byproducts (often suggested as a means to reduce agricultural waste). The DOA's concern is less that we'll end up with buzzed bovines running amok, and more whether compounds like THC could make it down the food chain into humans.
5. Edibles versus edibles
Some bizarre legal wrangles came to our attention when Green Thumb Industries was sued for trademark infringement by decorative fruit purveyor Edible Arrangements, who claimed similarity in the branding of the two companies could cause confusion. A Green Thumb spokesperson countered, "Even those who've consumed a generous serving of our delicious [edibles] wouldn't confuse a pre-cut fruit bouquet delivery business with an edibles cannabis brand."
6. Cannabinoid clothing
2020 was the year we learned of the existence of CBD-infused leggings (the mind boggles), thanks to a BBC podcast exploring the explosion in CBD products available in the UK (and around the world). Saoirse O'Sullivan (@ScienceSaoirse) addresses scientific and regulatory misconceptions with clarity and humor.
7. Good habits
We were tickled by a profile of hemp-growing nuns. The "nuns" are not a traditional religious order but rather a new-age collective/company who make artisan CBD products in the morning and spend their afternoons hiking and playing music. It sounds like a rather idyllic existence, doesn't it?
8. Healing hens
More animal news! CBD could help protect chickens against a nasty bacterial infection, according to a study from researchers at the Department of Poultry Science at the Polish Academy of Sciences. They showed that CBD increased gut bacterial enzyme activity in response to infection with Clostridium perfringens, which can cause intestinal problems in birds and humans alike. By studying the mechanisms involved, the researchers hope to gain valuable clues towards finding a cure for our feathered friends – and preventing food poisoning for humans.
9. Sweet treat
CBD oil may have a surprising alternative use – inhibiting the growth of yeast and mold on strawberries. Fruit treated with CBD oil looked better and had a lower microbial load compared with untreated fruit. Whether consumers would see the addition of CBD as appetizing or off-putting remains to be seen!
10. Ask a chemist
In an entertaining video series for Cannabis Life Network, chemist Markus Roggen answers the internet's questions about cannabis with an equal mix of science and sarcasm.
Receive content, products, events as well as relevant industry updates from The Cannabis Scientist and its sponsors.