Research & Development
Horticulture
Nature Knows Best
According to Alisia Ratliff, natural surfactants hold the answer to key challenges facing the cannabis industry
Margot Lespade | | 4 min read | Interview
What are the major challenges facing cannabis cultivators today?

The major challenge faced by cultivators is reproducibility. Crops are highly dependent on internal and external factors in a delicate balance for desirable yields. Some genetics do well in certain environments and regions while others are vulnerable to pests and disease.

Using technology to increase the concentration of crop adjuvants and additives can significantly drive down the amount needed for usage – further driving down production cost. Organic biotechnology introduced in cannabis cultivation offers an antimicrobial solution that helps plants internally ward off pests and fight disease more effectively.
What emerging solutions do you consider most important for the cannabis industry?

Bio-based surfactants! Some of the major factors affecting crop reproducibility are inefficient nutrient uptake, water pollution, and disease susceptibility. By introducing a surfactant into the growing process, you can optimize the plant's health in a way that can be repeated from batch to batch. Adding a surfactant to your watering scheme, for example, can give plants an antimicrobial boost, making them healthier and optimizing the crop's yield. Data collection is paramount so that you can monitor the effects of each variable using a controlled amount of surfactant.

However, we know that traditional surfactants are harmful to the environment. Use of polysorbate 20 when cultivating plants has been shown to increase the plant's flower yield and uptake of nutrients, while lowering irrigation rates. But it is toxic to the medium or soil being used to grow the crops as it is chemical-based and accumulates over time, prompting the opposite effect.

Organic, non-petroleum based and eco-friendly options have been historically challenging to find. But now, emerging natural surfactants and bio-based surfactants can serve as a greener alternative to increase product efficacy.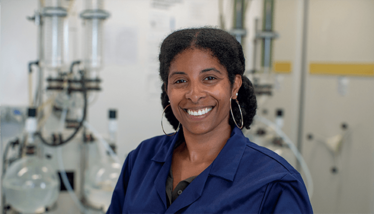 Meet Alisia Ratliff, CEO of Victus Consulting Ventures in Jacksonville, Florida, USA.

My degree and background are in chemistry. After graduating back in 2010, I worked in extraction and analysis in the environmental space, analytical testing, and most recently, cannabis industry. As a cannabis scientist, formulator, and product developer, I became aware of the challenges involved with mixing cannabinoid oils into lipophobic solutions, which led me to research ways to optimize particle size reduction, stabilize emulsions, and enhance the consumer experience.
And how do natural surfactants fit into the nanoemulsion trend?

The concept of nanoemulsions stems from the need to mix two immiscible solutions – and is not a new technology. The cannabis industry first started to look at nanoemulsions as infused products began to grow in consumer popularity. Some of the first tinctures and beverages manufactured highlighted the significant challenges in mixing solutions that are immiscible and further stabilizing hydrophobic compounds in water-based formulas.

When you reduce the particle size of compounds in the immiscible solutions you inevitably create nanoemulsions – kinetically stable dispersions of two immiscible phases: oil phase (hydrophobic) and water phase (hydrophilic). After forming a thermodynamically stable isotropic system in which two immiscible liquids are successfully mixed to form a single phase, an emulsifying agent, such as a natural surfactant, is needed to further stabilize the mixture.

Nanoemulsifying cannabinoid oil is exciting because it widens the range of infused products that can be manufactured for consumption. As consumer awareness grows around modes of administration for cannabis, we are seeing a shift away from flower inhalation and vaporization into more discreet modes, such as tinctures, capsules, and edible products. Because of the miscibility issues, water-based solutions were off the table for a while – but now, with advancements in nanoemulsification technology and methodology, we are able to produce water-based solutions infused with cannabis oil. Water-based solutions open up other options for consumers, including topicals, transmucosal sprays, and beverages.
Do you think we will see more widespread adoption of natural surfactants?

There are significant benefits to using natural surfactants in cultivation, so I would say that cultivators should explore these options. But there are also some barriers to adoption. First, there aren't many widespread manufacturers of natural surfactants; there are a handful in North America, but most are in Europe. Second, biosurfactants can be more expensive than their chemical alternatives – usually due to high production cost; however, I would argue that they prove their value in all their benefits to crops, final products, and the environment.

I can foresee these barriers being overcome in the future as specialty chemical producers create divisions within their organizations to address market needs and rising consumer awareness by offering natural and bio-based surfactants. Start-up companies are also beginning to emerge to offer biosurfactants that compete with traditional chemical surfactants. The market is projected to continue growing through 2027 reaching US$6 billion and is expanding outside of Europe, into North America, Asia and South America.
Receive content, products, events as well as relevant industry updates from The Cannabis Scientist and its sponsors.