Research & Development
Adverse effects,
Medical research
Passive (Aggressive) Smoking
Indoor bong smoking generates four times more fine particulate matter than tobacco smoking
Margot Lespade | | 2 min read | News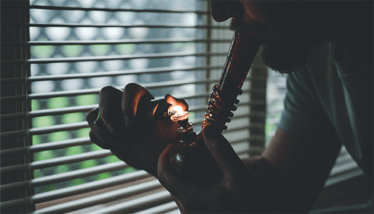 Secondhand cannabis smoke (SHCS) contains toxic chemicals, carcinogens, and fine particulate matter – just like tobacco smoke. And yet, unlike tobacco smoke, SHCS has not been widely studied.

That is until researchers from the University of California, US, investigated PM2.5 (particulate matter with an aerodynamic diameter below 2.5 μm) levels generated by bong smoking under real-life conditions. Several individuals smoked at their own volition in a non-experimental social setting of their choosing and without any instructions or limitations from the researcher. All the windows and doors remained shut throughout the sessions.

Levels of PM2.5 were measured before, during, and after eight social smoking sessions in a 20 m2 household living room, using an aerosol monitor that remained in the same location throughout the study to simulate a bystander's potential exposure. All samples and observations were collected without interacting with the smokers; indeed, the authors highlighted that one strength of this first-of-its-kind study was using actual bong-smokers with no artificial restraints.

After only 15 minutes of smoking, mean levels of PM2.5 hit 570 μg/m3) – more than twice the US Environmental Protection Agency hazardous air quality threshold of 250 μg/m3 – and went as high as 2500 μg/m3 in one session (1). Even 12 hours after the smokers lay down their bongs, PM2.5 levels remained elevated at 50 μg/m3 – more than 10 times the background concentration. The authors noted, "If one assumes the exposure concentrations were at the mean levels observed, a single home smoking session with no other exposures would generate an estimated mean daily concentration (200 μg/m3) that greatly exceeds the average in cigarette-smoking homes (44 μg/m3), nonsmoking homes (15 μg/m3), and the US EPA daily standard (35 μg/m3)"

The authors suggested that we may be years behind in research looking into the negative effects of cannabis smoking and called for the public perception of SHCS safety to be addressed.
Receive content, products, events as well as relevant industry updates from The Cannabis Scientist and its sponsors.
Nguyen et al, Jama Network Open, 5, e224744 (2022). DOI: 10.1001/jamanetworkopen.2022.4744