Research & Development
Neurology & psychology,
Addiction
Stress Smoking
Higher PTSD symptom severity predicted higher negative affect responses to all cues in cannabis (mis)use study
Phoebe Harkin | | Interview
Trauma and substance misuse have long been linked. But the degree to which one impacts the other – and in what order – remained unclear until relatively recently. Thankfully, researchers have shed some light on the relationship between the two. Drawing on an established cue-exposure paradigm, the team investigated whether conditioned craving and/or elevated negative affect to trauma were linked with PTSD and cannabis use disorder (1). 51 trauma-exposed cannabis users were randomly presented with three cue types: personalized trauma, cannabis, and neutral. Their craving and emotional responses were then evaluated to determine whether they affected cannabis users. What they found was that trauma cues provoked higher total and relief craving than cannabis and neutral cues, higher PTSD symptom severity predicted higher negative affect responses to all cues, and trauma cue exposure enhanced link of PTSD symptom severity to compulsivity craving. The bottom line: trauma cues might promote cannabis use via conditioned craving and self-medication.
We had the pleasure of speaking with the lead author of the study about the neural mechanisms behind this response and how these findings might translate to other addictive substances and trauma disorders.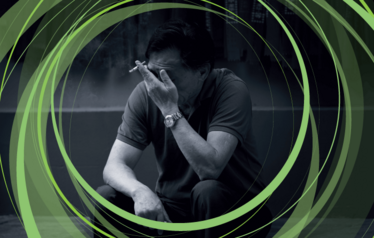 With Pablo Romero-Sanchiz, Lecturer in Psychology at the University of Roehampton, London, UK
Why did you choose to focus on trauma-exposed cannabis users specifically?
There is strong scientific evidence that links substance use and trauma exposure. We are not sure about which one causes the other or why they co-occur. But we do know that those with PTSD are more prone to develop a substance (including cannabis) use disorder than those without that diagnosis and that those who use drugs (including cannabis) are more prone to develop PTSD or being exposed to trauma. We believe that it is a very important health issue, and that is why these two issues must be studied together.
We also know that a lot of patients with PTSD and even people with symptoms of PTSD but without a full diagnosis use cannabis to cope with negative emotions or other symptoms associated with traumatic experiences. This has become extremely important with the legalization of cannabis for recreational purposes in Canada and other countries because made cannabis is much more accessible and, consequently, some people might use recreational cannabis to self-medicate. That is why we need to know if some types of cannabis use are not safe for those with a history of trauma exposure.
Could you tell us more about the three cues (neutral, trauma and cannabis) and give real-world examples of each?
Sure! We asked our participants to describe three different events: The most traumatic experience they went through (or one of the most), a regular, pleasurable experience of cannabis use and, a very dull, normal experience, something emotionally neutral. We feel extremely grateful to the participants in our study because they very kindly and unselfishly shared this personal experience with us, in some cases for the first time in their lives. Let me give you a few examples without, of course, compromising our participants' right to confidentiality.
The types of traumatic experiences that our participants shared with us were very varied, from events experienced by soldiers deployed in warzones to sexual assault. The cues were created as short stories written in first person, including a lot of sensory details so the re-experience was vivid enough to elicit a reaction. At this point, I would like to highlight how brave our participants were, because they knew they were going to talk about one of the worst experiences of their lives and be re-exposed to that story. And they did it to contribute to the advance of science, to help others that are going through the same problems. That is remarkable.
The one about cannabis use was very different. They mostly shared stories about regular cannabis use for pleasurable purposes, such as using a bong at a party or just watching TV. We included a lot of details about how they prepared the device or rolled the joint, for example, as well as how they felt, including bodily sensations and emotions. Finally, the neutral one was surprisingly the most difficult one for us, because it was about something mundane like grocery shopping or brushing your teeth. And I say that it was more difficult because if we wanted a cue as detailed as the other two, we needed to ask a lot of silly questions about the colour or the flavour of the toothpaste or what did they buy on that specific day. And as you can imagine those details are very difficult to remember if the event was not particularly memorable!
What would you define as substance misuse in the context of this study?
In terms of cannabis, we used the most widely used questionnaire to evaluate if the use of cannabis was potentially hazardous or the potential presence of cannabis use disorder. We evaluated the number of times the person smoked or used cannabis and the number of hours per day the person considered that was "stoned", of course, but also if the use of cannabis provoked that they failed to fulfil work or family-related commitments or if they had problems trying to control their use of the substance, among other things.
Why does higher PTSD symptom severity predict higher negative affect responses to all cues?
This is a very good question because the "whys" are always difficult to answer in science, but I think that in this case, it is related to the fact that one of the clusters of symptoms typical of PTSD is about negative mood and cognitions. Those with more severe PTSD symptoms experience low mood, irritability or angry outbursts.
What might be the underlying neural mechanisms behind this? Do you plan to study this further?
Well, this is a great question and, interestingly, one that we are trying to answer in an ongoing study being conducted by our team. We are trying to replicate the same type of study but, this time, using an fMRI scanner. We expect to see differential activation provoked by our cues in brain areas like the ventral tegmental area and the amygdala, but we will see what happens!
Is there a way to combat this conditioned craving?
We need to examine this in another study but we hypothesise that the use of cannabis as prescribed, that is, used regularly following a professional prescription pattern, instead of using it immediately after re-experiencing a traumatic memory or a negative mood state, might help to reduce the conditioning between the symptoms and the need to use the substance, that is, the craving. But we need to confirm our hypothesis with actual data!
How might these findings be used to help cannabis users (particularly those with PTSD)?
Well, I think that our study points out that cannabis users with higher levels of PTSD or with the disorder have to be very careful about how they use cannabis to cope with their symptoms. The presence of conditioned craving has been linked to a higher risk of developing a substance use disorder, that is, an addiction. That is why I would recommend them to be very cautious and seek professional help if they feel that their use of cannabis is getting out of control.
Will your findings translate to other addictive substance users and other types of trauma disorders?
Absolutely. In fact, our findings in cannabis have been previously found in substances like alcohol and cocaine, and I wouldn't be surprised if this happens in other substances as well.
Receive content, products, events as well as relevant industry updates from The Cannabis Scientist and its sponsors.
P Romero-Sanchiz, "Craving and emotional responses to trauma and cannabis cues in trauma-exposed cannabis users: Influence of PTSD symptom severity", Addictive Behaviors, 125, 107126 (2021). DOI: 10.1016/j.addbeh.2021.107126