Research & Development
Cancer,
Medical research,
Pain
The Big C
If half of US breast cancer patients are using cannabis to manage symptoms, physicians need to acknowledge the trend and initiate conversations
Phoebe Harkin | | Interview
New research has shown that more than two fifths of US adults with breast cancer could be using cannabis to manage symptoms and side effects. Of 612 participants surveyed, 42 percent reported using cannabis for relief of pain, insomnia, anxiety, stress, and nausea/vomiting; of those, 75 percent reported that it was extremely or very helpful at relieving their symptoms (1).
Notably, 49 percent of cannabis users believed it could help treat the cancer itself. Participants reported using products of varying qualities and purities – with many unaware that products were not necessarily tested for safety. But perhaps the most problematic stat was that half of the participants who sought information on medical cannabis did so through websites and other patients – with physicians ranked low on the list of helpful sources.
The research brings up some interesting questions about pain relief options for cancer patients. With 79 percent of cannabis-using patients doing so during treatment, it seems the medical community needs to initiate informed conversations with patients to make sure their symptoms are being adequately managed, while minimizing the risk of potential adverse effects.
Q&A
We spoke to Marisa Weiss, Director of Breast Radiation Oncology and Breast Health Outreach at Lankenau Medical Center, Pennsylvania, USA, and Chief Medical Officer at Breastcancer.org, to find out more
Were you surprised that 42 percent of the breast cancer patients surveyed used cannabis? Do you think this figure is representative?
The number doesn't surprise me – and with more states allowing medical cannabis and increased exchange of information between patients, even more people will likely try cannabis to relieve symptoms. When cannabis becomes legal at the federal level, I'd expect these numbers to increase further. As for accuracy, there may be both underreporting and an overrepresentation of cannabis users who may be more likely to respond to the content of our survey – whether or not these factors counterbalance each other is unclear.
Given that 79 percent of cannabis users do so during treatment, is there a risk of drug-drug interactions?
Yes – there are potential drug-drug interactions that could pose a danger, like using cannabis and warfarin (a commonly prescribed anticoagulant) at the same time. There are also underlying conditions that could be made worse: smoking/vaping during a COVID-19 infection or while undergoing active treatment for breast cancer that can affect immune or lung function, and exposure to mold product impurities when immunocompromised.
What's your take on the 49 percent of users believing cannabis could treat cancer itself?
In the absence of scientific data (not just based on lab and animal studies or compelling personal anecdotes), using high dose cannabis (like Rick Simpson Oil) to "treat" cancer instead of evidence-based proven therapies could compromise survival and also cause intoxication or compromised function.
Why don't patients discuss cannabis use with their physicians?
They may be concerned about being judged negatively. As cannabis is still illegal at the federal level with zero tolerance in certain professions (school bus drivers, correction officers, military, some teachers, for example), people may not want to get in "trouble" and disrupt their lives. Privacy is also important; no one wants their use to be put into their electronic medical record where privacy may be compromised. Alongside this, many have been disappointed with their providers' absence of knowledge and experience on the role of medical cannabis in their care; understandably, they may be hesitant to bring it up again.
What are the limitations of patients using the Internet and family or friends as their sole source of information?
The web is glutted with misinformation, exaggerated claims, and product over-promotion without reliable third party certificates of analysis – where product labeling doesn't accurately reflect the dose and without mention of potential impurities, such as mold, pesticides, and heavy metals. Likewise, most products are THC dominant with the goal of getting high, whereas most of our survey participants are seeking resolution of difficult symptoms – not to get high. In addition, product sharing is very common, and complicated further by the fact there is no quality control or regulation.
Is there a wider issue about cancer treatment pain relief options if patients are choosing to use untested products to manage their symptoms?
Yes. Pain is a terrible symptom that wears people thin, forcing them to seek solutions that may be unhealthy. Fear of addiction was common among our survey participants. Many people are suffering alone without any expert evaluation of their pain, nor any thoughtful use of proven solutions. Secret product sharing is common. Doctors don't know what their patients are doing – and then they might prescribe additional medications on top of other home-product use. The downside of this is you can get inadequate relief or over-medication along with a build-up of side effects.
What needs to change for participants to feel more comfortable about speaking to their doctors about cannabis?
More solid research with evidence-based results that can be taught in medical, nursing, pharmacy schools, and so on – along with training to initiate an active and open dialogue about cannabis use. And, of course, legalizing medical cannabis use at the federal level to facilitate research and to help remove stigma.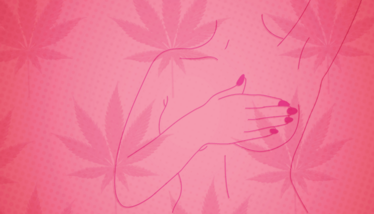 Receive content, products, events as well as relevant industry updates from The Cannabis Scientist and its sponsors.
M Weiss et al., "A Coala-T-Cannabis Survey Study of breast cancer patients' use of cannabis before, during, and after treatment," Cancer (2021). Online ahead of print. PMID: 34636036