Research & Development
Medical research,
Profession
The Grandfather of Modern Cannabis
Sitting Down With... Raphael Mechoulam, Professor of Medicinal Chemistry at the Hebrew University of Jerusalem, Israel.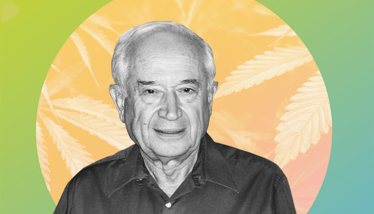 How did you come to study cannabinoids?
My background is in the chemistry of natural products. I was surprised to find that, although morphine had been isolated from opium 100 years previously and cocaine from coca leaves 50 years previously, the chemistry of cannabis was not well known. The active constituent had never been isolated in a pure form, so it was not known whether we were dealing with one compound or with many. For pharmacology – and later on, clinical work – one has to have a well-defined compound. We first tried to define the chemistry of cannabis, and in the early 1960s, we isolated tetrahydrocannabinol (THC) in its pure form, elucidated its structure and later synthesized it. We then had to define the chemistry for additional compounds (not necessarily the psychoactive ones), so we worked on the chemistry, metabolism, structure and synthesis for the next decade.
Did it feel significant at the time?
Not really. At that time, I asked for a grant from the NIH in the US, and they told me to apply again when I was doing "something more relevant." Well, in a few years, cannabis did become relevant, and the NIH supported my work financially for nearly 45 years.
Was there any stigma?
No – scientists considered it another part of chemistry to be clarified and evaluated. My colleagues believed it to be legitimate, even voting for me to be academic head of the university. They wouldn't have done that if they'd thought I was working on something 'questionable!'
How has your work progressed since?
In the beginning, we were thinking only of the plant material, but we later found that THC mimics the activity of endogenous compounds synthesized by the mammalian body. These compounds, which we identified in the 1990s and named anandamide and 2-AG, are part of a biochemical system known today as the endocannabinoid system. This system involves at least two receptors in the brain and the periphery, as well as enzymes that both synthesize and degrade the endocannabinoids. This is a major field of biochemistry and pharmacology, and is of significant biological and
clinical importance.
Do people appreciate its significance?
It has been reported by scientists at the NIH in the US that the endocannabinoid system is involved in essentially all human diseases – which is a strong (yet seemingly correct) statement. There are hundreds of groups working on all aspects of it now. We reported recently that our brain forms an endocannabinoid-like compound that fights addiction to nicotine; there is another one that fights osteoporosis, another that tries to fight brain damage.
What research is still needed?
Along with many others in Israel and elsewhere, I have worked to establish a strong understanding of the chemistry of cannabis-related compounds. What is missing, not only in Israel but in many other countries, is clinical research. To give an example: 35 years ago, we did a clinical trial showing that cannabidiol (CBD) is excellent for epilepsy; however, it's only within the last ten years that people have heard the results of our work. And now children with epilepsy are given CBD.
There isn't a single clinical trial in cancer; however, thousands of people are using cannabis medically, because they've heard it can help. But that's not how it should be done; one should know which specific cannabinoid one should use for a specific kind of cancer. We need data. We cannot work as though we are in the eighteenth century. Ultimately, it is governments that have the power to change things.
Why is there resistance to the use of CBD as a medicine?
Cannabidiol is a strange animal. It's not toxic and doesn't cause psychoactivity or side effects – so there is absolutely no reason to keep it from patients. Health, in my view, is more important than questionable legal issues. A major hurdle is that medical and recreational uses for cannabis have become mixed together. The medical aspect should be pursued according to medical rules; recreational use is a social issue, and the population of a certain area, state or country has to decide if it should be legalized. One should not say, "We want recreational cannabis because it's anti-epileptic" – it doesn't make sense.
What are the highlights of your career?
There have been three: the identification of THC in the 1960s, the identification of the endogenous cannabinoids in the 1990s, and our work now on the third phase of cannabinoid research – endogenous anandamide-like compounds of importance in numerous areas. There is so much more to study in cannabinoids, which keeps me motivated. It's what any scientist likes to do – tackle a research project of some importance and ultimately find out it has been worthwhile.
Anything you wish you'd done differently?
I may have broken the law at the beginning of my research, which I regret! But when we started, nobody was working in this field (mostly for legal reasons, I suspect). As a matter of fact, I got the cannabis from the police. If it had been in the US, we'd all have gone to prison. Thankfully, we never had any major problems working with cannabis in my lab. People knew we were using it for legitimate research.
How do you feel about being called 'the father of modern cannabis'?
I object – I'm the grandfather!
Receive content, products, events as well as relevant industry updates from The Cannabis Scientist and its sponsors.