Research & Development
Adverse effects,
Cannabinoid analysis,
Medical research
When Drugs Collide
Researching clinically significant DDIs between cannabis-based therapies and conventional medications
Phoebe Harkin | | Interview
Widespread legalization has seen the use of medicinal cannabis increase exponentially and, with it, the risk of clinically significant drug-drug interactions (DDIs). DDIs can result in serious adverse events, specifically those affecting cytochrome P450 (CYP)-mediated drug metabolism. But what is the likelihood of clinically significant DDIs between cannabis-based therapies and conventional medications? In this paper (1), researchers used supersomes to screen the inhibitory potential of cannabinoids in vitro, evaluating twelve cannabinoids on the predominant drug-metabolizing CYP isoforms: CYP3A4, CYP2D6, CYP2C9, CYP1A2, CYP2B6, and CYP2C19. The cannabinoids exhibited varied effects and potencies across isoforms.
We spoke to Lyndsey Anderson, Research Fellow at the Lambert Initiative for Cannabinoid Therapeutics, The University of Sydney, Australia, to find out more.
Q&A
What's a supersome and why did you choose it as a model?
Supersomes refer to microsomal vesicles that contain a single CYP450 enzyme isoform. Human liver microsomes are rich in CYP enzymes and can also be used in drug metabolism and drug interaction studies. However, human liver microsomes contain a mix of drug metabolizing enzymes that can have broad genetic variability. Here, we used supersomes so that we could investigate the effects of the cannabinoids on drug metabolism by each CYP isoform individually.
Are there many reports of negative interactions between cannabinoids and approved drugs?
The most well-known drug interaction between cannabinoids and approved medications is the interaction between cannabidiol (CBD) and clobazam – a first line treatment for the severe childhood epilepsy Dravet Syndrome. Significant drug-drug interactions have been reported between either CBD or cannabis and anticonvulsants, anticoagulants, antiplatelet medications, antipsychotics and immunosuppressants. These interactions have been attributed to interactions at CYP450 enzymes and are associated with an increased incidence of adverse events.
What problems does it cause for patients and in which indications is it most prevalent?
Drug-drug interactions at CYP450 enzymes can have significant implications for patients, especially in those treated with drugs that have a narrow therapeutic window. In this study, we found that most of the cannabinoids inhibited CYP2C9 and CYP2C19, which together metabolize nearly 25 percent of approved drugs.
Noteworthy drugs metabolized by these isoforms with narrow therapeutic windows include warfarin, clopidogrel, phenytoin, amitriptyline, and sulfonylureas. Drug-drug interactions that alter the metabolism of these drugs can result in plasma concentrations outside the normal therapeutic range and lead to serious adverse events. Therapeutic drug monitoring and subsequent dose alterations may be warranted for CYP2C9 and CYP2C19 substrates.
Were you surprised that differing cannabinoids exhibited varied effects across the CYP isoforms?
The cannabinoids exhibiting different inhibitory effects across the CYP450 isoforms was expected. It is common for a drug to inhibit one CYP450 isoform while having no effect on the metabolic function of other isoforms and previous work has shown this to be the case for CBD and THC. However, the vastly different inhibitory potencies of the cannabinoids at a single CYP450 isoform was surprising. Based on the structural similarity of the cannabinoids, we anticipated that the cannabinoids would have comparable inhibitory profiles at each CYP450 isoform.
What's next for your research?
We are very interested in continuing to identify potential drug-drug interactions between cannabinoids and approved drugs. Prior to commencing a cannabis-based therapy, it's important to be aware of potential drug-drug interactions so that, if necessary, therapeutic drug monitoring is used to avoid serious adverse events.
We have been working closely with our clinical team to predict the likelihood of a significant drug-drug interaction between cannabinoid therapies and likely concomitant medications in upcoming clinical trials. The clinical team is then able to foresee potential interactions and we are able to determine whether the predicted interactions translate in vivo. Recently, we predicted an interaction between CBD and citalopram in vitro, which translated to an in vivo interaction in patients with anxiety disorders.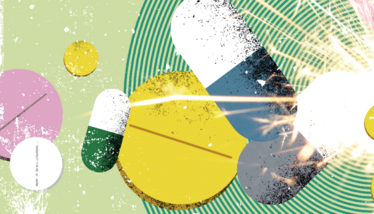 Receive content, products, events as well as relevant industry updates from The Cannabis Scientist and its sponsors.
P Doohan et al, AAPS J, 28, 23 (2021). DOI: 10.1208/s12248-021-00616-7.