Testing & Processing
Cannabinoid analysis,
Classification,
Extraction
Pure, Unadulterated CBG
We speak to Simona Felletti, postdoctoral researcher at the University of Ferrara, Italy, about her recent collaboration with KNAUER to help make efficient CBG purification a reality
| 4 min read | Interview
sponsored by Knauer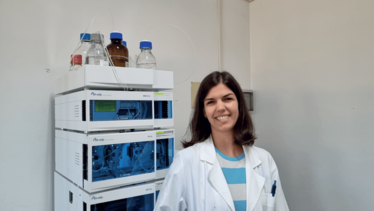 Meet Simona Felletti

Simona, who obtained her PhD in Chemical Sciences in 2020 at the University of Ferrara, Italy, is now a postdoctoral analytical chemistry researcher. Her research focuses on the study of mass transfer phenomena and thermodynamic properties of packed columns, as well as method development for the purification of bioactive molecules, such as peptides and cannabinoids. Her collaboration with KNAUER started in 2020, when she initially worked on developing cannabinoid purification methods using simulated moving bed chromatography.
Why is cannabigerol (CBG) important in a medical context?

If you think of cannabinoids, the two most likely to come to mind are cannabidiol (CBD) and tetrahydrocannabinol (THC). However, another (non-psychoactive) cannabinoid is rapidly gaining popularity: CBG. In vitro and in vivo animal studies have shown that CBG may have antibacterial, antimicrobial, and antidepressant effects, as well as therapeutic potential in treating cancer and neurological disorders. The potential so far points the way to new treatment options in humans – but clinical trials require large amounts of pure product.
What are the challenges with current CBG purification methods?

Cannabis is a very complex mixture of numerous molecule classes, including terpenes, cannabinoids, and flavonoids. Over 100 cannabinoids have been discovered so far – many with very similar chemical structures – making their isolation particularly challenging. Moreover, CBG is considered a minor cannabinoid with no more than two percent content in the flower – in contrast, CBD content can be up to 25 percent.
There is very limited literature on the purification of CBG – and the latest purification techniques are based on multiple crystallization and re-dissolution steps, with a further step of liquid-liquid, low-pressure, or flash chromatography. The complexity of the current time-consuming method really highlights the need for efficient, cost-effective, rapid, high-throughput, and green methods for CBG isolation. Given my previous work, I believed preparative liquid chromatography – and, in particular, simulated moving bed (SMB) technology – could offer a potential solution.
How did the project with KNAUER come about – and what were your aims?

The collaboration with KNAUER began after the HPLC 2019 Separation Science Slam competition, which KNAUER sponsored. I happened to be taking part that year, and I met the KNAUER team after the session. A few months later I was working in their lab!
Our aim was to evaluate the feasibility of preparative chromatographic techniques under normal phase conditions for the purification of cannabinoids. Combining KNAUER's SMB knowledge with my cannabinoid LC expertise, we tested continuous multicolumn countercurrent SMB chromatography for the separation of a CBG-rich hemp sample.
And were you successful?

The results were very promising. KNAUER's SMB chromatography proved to be an optimal technique for obtaining high purity CBG-rich fractions and THC remediation of cannabis extracts, allowing the creation of THC-free products. In fact, once the optimal working parameters are set, SMB permits an uninterrupted purification process without the need of an operator, providing a clear advantage from an industrial standpoint. Moreover, as well as being more cost-effective, the use of apolar solvents facilitates evaporation and the consequent concentration process of the final product.
Although we are in the early stages of SMB application to cannabis samples, the results suggest that we are definitely moving in the right direction. Of course, there is still a great deal to explore – which is why we are planning future collaborations to test different column chemistries and solvents. And we want to apply our methods to other cannabis varieties.
How did the collaboration with KNAUER aid your research?

KNAUER recently celebrated its 60th anniversary – and the company has over 40 years of experience in the development and production of laboratory instruments, especially SMB. Without their expertise in the field, their willingness to collaborate, and, of course, their wish to further cannabis research, it would have been difficult to emulate such successful results in this project. I am truly grateful to the KNAUER team for allowing me to join their family and encouraging me to bring my ideas to their lab. I sincerely hope that I have the chance to work with them again in the future!
Receive content, products, events as well as relevant industry updates from The Cannabis Scientist and its sponsors.