Testing & Processing
Omics,
Cannabinoid analysis,
Terpene & residual solvent analysis
Shedding New Light on Phytochrome Manipulation
New study will explore the epigenetic and chemical impact of different lighting regimes in hemp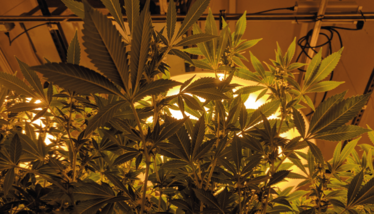 Phytochrome manipulation is common in indoor grows and involves using different wavelengths of light to help control the plants' circadian rhythms and maximize yield.
Researchers from the Collaborative Laboratories for Environmental Analysis and Remediation (CLEAR) at the University of Texas at Arlington, University of Texas at El Paso, genetics company ZED Therapeutics, and Curtis Mathes Grow Lights are joining forces to examine how different lighting protocols affect phytochemical profiles in a bid to better understand how phytochrome manipulation works and how we can harness it.
We caught up with one of the project leaders, Zacariah Hildenbrand (Research Professor, University of Texas at El Paso), to find out more.
How did the collaboration come about?
Kevin Schug (Director of CLEAR) and I have been working together since 2011, and we've always focused on unconventional fields of research. We've looked at the environmental implications of fracking, the chemical characterization of cannabis and hemp, and the advanced analysis of beer, to name just a few.
This work is a continuation of ongoing research efforts amongst the collaborators, in which we are analyzing hemp (<0.3 percent THC) analogs of mainstream cannabis cultivars, created using proprietary genetic technologies developed by Adam Jacques of ZED Therapeutics.
How will understanding the genetic basis for phytochrome manipulation help growers?
Phytochrome manipulation is a very poorly understood phenomenon in the horticultural sciences, let alone in the cannabis/hemp sector. Our hope is that this research will unearth a better understanding of how modulating phytochromes with red light will affect phytochemical content (the expression of cannabinoids, terpenes, and flavonoids).
Our initial set of experiments will involve four different hemp cultivars with precise genetic makeup, each grown under four different lighting intervals (with respect to modulation of red light frequencies). Essentially, we will be able to evaluate how the different lighting intervals affect different hemp cultivars of unique genetic origins.
What will be the role of each partner?
Curtis Mathes is providing four different lighting configurations; ZED is growing the plants, collecting environmental data, and performing the cannabinoid analyses; Kevin (UTA) is overseeing the more advanced chemical analyses; and I (UTEP) am coordinating the study.
When can we expect to see the results?
We plan to conduct the experiments and analyses over the next 6 months and have the results submitted shortly thereafter. Needless to say, we are all very excited about the findings that this research may yield!
Receive content, products, events as well as relevant industry updates from The Cannabis Scientist and its sponsors.