Testing & Processing
Tools & technology
Reliability and Quality in an Ever-Changing Industry
Rebecca Lampert, Product Manager at BRANDTECH Scientific, highlights the importance of high-quality analytical tools in cannabis labs – and how BRANDTECH is addressing challenges faced by the industry
| 5 min read | Interview
sponsored by BrandTech Scientific, Inc.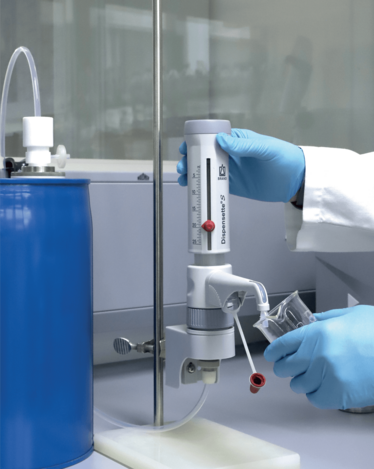 Why are reliable, accurate and high-quality tools so important in cannabis labs?

There are several reasons why reliable, accurate, and high-quality tools are of the utmost importance for cannabis testing labs – and even in manufacturing. First, the work is very repetitive, which naturally can lead to human error; for example, accuracy and precision can be affected when conducting many microbial assays, preparing samples for chromatography, or dispensing hundreds to thousands of resin aliquots in cartridges or other receptacles every day. High-volume, repetitive assays benefit from robust equipment so labs don't constantly need to replace and calibrate instruments.
Guidelines and regulations also require high accuracy and have low thresholds for error. Even slight variation when testing the cannabinoid makeup of a batch could make or break a company – using top quality instrumentation reduces variability. Testing labs often analyze the composition of samples, checking for pesticides, fungi, heavy metals, and other contaminants. Ensuring that labels correctly represent the cannabinoid makeup, strength, and quality is not only crucial for the industry but also for consumer health. In short, the use of high-quality tools protects both the best interests of the company and the consumer!
What are some of the current challenges faced by cannabis labs?

Repetitive assays, difficult to work with materials (such as viscous resins or acids), inconsistent regulations, and lack of funding are all common challenges in the cannabis industry at this time. Cannabis labs constantly face ever-changing legislation and lack of industry testing standards. Authorized ingredients and chemical grades, manufacturing practices, licenses to sell, safety measures, where and who is allowed to grow and test, and quality testing expectations are evolving continuously – it's a lot to keep track of! Though cannabis has been around for a very long time, the medical and retail industry is fairly new, so growing pains persist.
How does BRANDTECH help address these challenges?
With rapidly changing rules and strict testing requirements, it is important to collaborate with partners who can work with you at every stage. By providing a full line of liquid handling products and accessories, we can help cannabis labs adapt as needed – including, for example, addressing the need for automation with our touch screen positive displacement repeater, the HandyStep Touch. Given the ambiguity of legislation, many vendors are hesitant to work with cannabis facilities. We do work with distributors so that cannabis testing labs and manufacturing facilities have access to high-quality instruments and consumables regardless of how they like to purchase.
What makes BRANDTECH products stand out?
Though many liquid handling tools, such as pipettes, pipette controllers and repeaters, may appear similar, the quality and thoughtful design behind each product significantly affects safety, reliability, and long-term health of product and lab personnel. Both in testing labs and in production, it is increasingly important to dispense efficiently with accuracy and precision. Though labs may once have manually poured liquid from one container to another, tools like our Dispensette S Bottle Top Dispenser can now accomplish the same tasks – reducing the risk of contamination and enabling higher accuracy. Although less sophisticated methods of transferring liquid may seem sufficient for now, it is time to be well-equipped to meet high technical and quality standards.
How does BRANDTECH stay on top of cannabis guidelines?
Although there are many common regulatory bodies that set standards throughout workplace processes – like OSHA, ASME, UL, C1D – and some well-established standards, government regulations surrounding cannabis currently vary by state. Using high quality, precise liquid handling instruments allows labs to meet their local requirements. We maintain the highest standards for our manufacturing environment and finished products meet ISO 17025. Some cannabis labs require ISO and others are already instituting policies similar to those seen in GLP labs, while cannabis manufacturing facilities may look to mirror cGMP principles. Though it is ultimately up to each business to ensure they adhere to relevant regulations, BRANDTECH is able to support processes as they change by providing highly regulated and reliable liquid handling tools.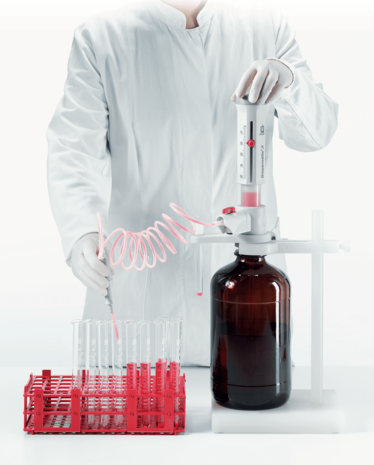 Which BRANDTECH tools should be on a cannabis lab wish list?
Cannabis labs commonly test for potency, terpenes, harmful substances, and other contaminants – meaning they are likely to use acids for the digestion and purification of edible products to analyze the sample through high-performance liquid chromatography (HPLC), gas chromatography-mass spectrometry (GC-MS), and liquid chromatography-mass spectrometry (LC-MS). In this scenario, labs would benefit from using a bottle top dispenser, such as the Dispensette S, to safely dispense the acid. Our Transferpette S – a simple and ergonomic pipette designed for one-handed operation – is also well suited for sample preparation. It also can be completely taken apart for cleaning and other routine maintenance to ensure the integrity of pipetted liquids.
Manufacturing facilities also have their own set of needs – and that's where positive displacement pipettes can be used to properly and safely dispense without wasting any expensive finished goods. For this purpose, labs would also benefit from our touch screen repeater, the HandyStep touch. Additionally, both the Transferpette S and HandyStep Touch use tips made by BRAND but also allow for popular third party tips – meaning our users are increasingly protected from supply chain shortages that have been common over the last few years.
Liquid handling tools not only improve safety and accuracy, but they also help save costs, avoiding sample loss and contamination risk from manual liquid handling. There are many ways cannabis testing labs and manufacturing facilities would benefit from incorporating liquid handling tools throughout their day-to-day workflows. Overall, it is clear that the cannabis industry can benefit from using our quality, German-made, liquid handling equipment.

Though we can't know exactly what the future holds, we can anticipate that big players will emerge in the testing and manufacturing spaces. There's also always the chance that cannabis may become federally legal in the near future, which could bring stricter policies, certification, and auditing. The industry is moving quickly – so it is of paramount importance to be in a position of success with good testing and manufacturing practices, while establishing standard operating procedures for day-to-day work that incorporate the best instrumentation for accurate results and long-lasting success.
Receive content, products, events as well as relevant industry updates from The Cannabis Scientist and its sponsors.