Testing & Processing
Tools & technology
Take the High Road
Canadian company Molecular Science Corp has assembled a team of top equipment vendors to fit out the world's first mobile testing lab for cannabis. We speak to Brigitte Simons, VP of Labs & Strategic Operations, to find out more.
Charlotte Barker |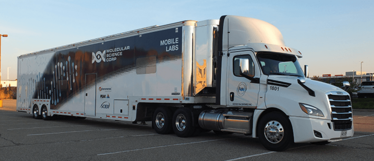 Why develop a mobile lab?
As the Canadian regulatory framework for legalized cannabis takes effect this fall, well characterized products and quality control are key to meeting the requirements for retail. Mobile laboratory services provide customers instant access to in-process data, so that they can optimize quality assurance programs tracking cultivation yields, safety, and accurate product labelling. It allows customers to access scientific advice and expertise, without having to budget for costly in-house infrastructure or recruit PhD-level scientists (a particular challenge for growers in remote rural locations).
We have launched a scientific partnership with Canopy Growth Corporation, the largest marijuana producer in Canada with 11 facilities, to help them improve their risk management and optimize product development.
How close is it to the capabilities of a fixed lab?
In some ways, it offers more versatility than a typical cannabis lot-release testing lab, designed for uninterruptable routine. Our mobile lab is a holistic service – we can do metabolite screening, assist in research and development for natural products, measure contaminants, and look at multiple inputs into the cultivation supply chain. Furthermore, if a problem comes up that we can't solve in the field, we can ship samples to our fully equipped lab in Toronto for a deeper analysis.
Is this the only lab of its kind?
This is the only mobile lab able to carry out risk assessment in line with Health Canada's stringent requirements for product lot-release testing. Mobile labs have existed in other industries such as environmental water testing and geological mining, but our lab has features specific for cannabis compliance, to allow proper record keeping for agriculture materials with narcotics handling.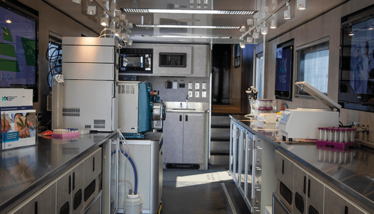 What is the role of equipment vendors?
Establishing technology partnerships with the different suppliers has been a very positive experience. Working in a mobile environment is very different to a fixed lab, and we have received exceptional engineering support from Quasar Instruments (Colorado, USA) and our additional partners to make technology implementation robust and worry-free. For example, Peak Scientific (Scotland, UK) have been tremendously helpful in providing extra parts and support – without high-grade lab gas, no mass spectrometry can happen so it's vital that the gas generators stay operational.
What is the biggest challenge of going mobile?
Without a doubt, maintaining security procedures in accordance with our licence to possess cannabis products for lab testing and research. Even though the lab doesn't actually carry or store marijuana, we have to be very security conscious to protect our clients from infringing within licensed zones and work responsibly to ensure sample traceability. Confidentiality and data protection are the other major concerns for our customers, and we have systems in place to make sure that data integrity and security matches the information management of our physical lab in Toronto.
What's your take on the regulatory testing situation in Canada?
Canadian government agencies have some of best labs in the world when it comes to pest control management and environmental toxicity in consumer goods, which puts Canadian regulators in a strong position. The required pesticide reporting limits in Canada will be stricter than in the US, which is great from a consumer safety point of view but a tough challenge for the industry's product pipelines. The regulators have set the bar, and it's now up to service labs like ours to figure out how we can help our partners to meet and improve upon those standards as more cannabis products hit the market.
Perfect Partners
The mobile lab has been developed to a high specification and includes equipment from:
SCIEX – mass spectrometry

Peak Scientific – gas generators

Hamilton Robotics – sample handling

Phenomenex – LC columns

VWR – lab supplies

PerkinElmer – FT-NIR spectroscopy

Restek – consumables

SPEX SamplePrep – sample grinding

Sigma – consumables

Twister Trimmer – trimming equipment
Receive content, products, events as well as relevant industry updates from The Cannabis Scientist and its sponsors.